(MPI) – Minister Nguyen Chi Dung and Deputy Minister of Foreign Affairs of the Republic of Korea (RoK) Jun Seong Deok, who is in Vietnam to attend the Vietnam-RoK Economic Cooperation Conference and the 19th meeting of the Vietnam-RoK Intergovernmental Committee, in Hanoi on October 28.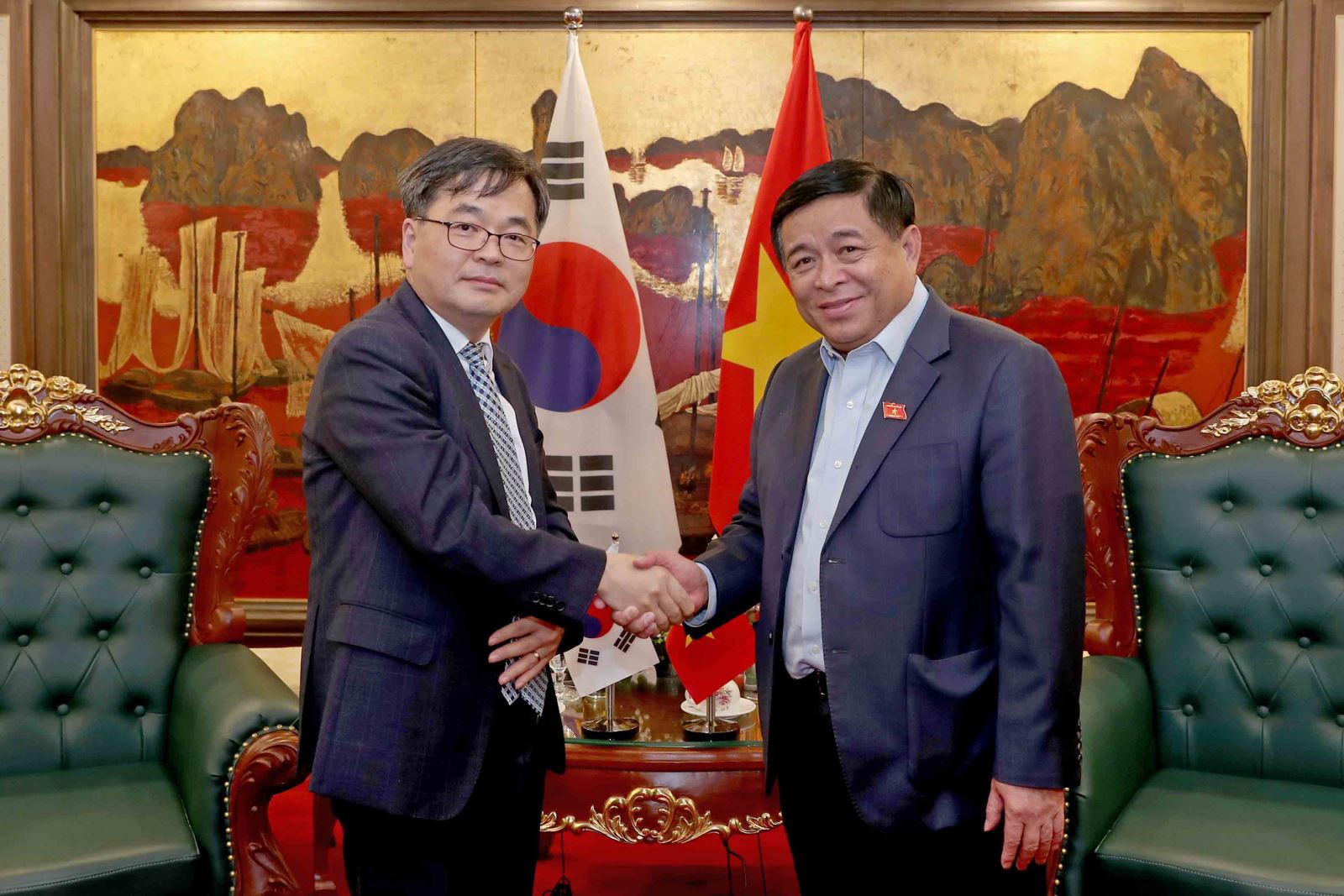 MPI Minister Nguyen Chi Dung (right) and Korean Deputy Foreign Minister Jun Seong Deok. Photo: MPI
Minister Dung expressed his delight at the vigorous growth of the Vietnam-RoK bilateral ties over the last 30 years, stressing that the two sides should promote economic-trade-investment development, step up effective cooperation in all fields to bring it on par with their relationship and to bring benefits for both sides.
Minister Dung spoke highly of the RoK's outstanding development, and suggested the two countries work closely in climate change response, green growth and digital economy. He also asked both sides to bring innovation into the next Country Partnership Strategy (CPS) when innovation could create breakthrough for the country's development, and said these promising fields remain much room for growth.
The minister underlined, Vietnam hopes the RoK to pay more attention to Vietnam and Association of Southeast Asian Nations (ASEAN) while Vietnam remains a developing country with stable economic growth. He suggested to continue realising commitments reached between the two governments and intergovernmental committees.
The Vietnamese Government always welcomes Korean businesses expanding investment in Vietnam, with priority given to high technology, renewable energy and hydrogen, said the minister.
For his part, Deok informed his host on the successful organisation of both the Vietnam-RoK Economic Cooperation Conference and the 19th meeting of the Vietnam-RoK Intergovernmental Committee. The two sides have frankly proposed recommendations in all spheres.
The Korean Deputy Foreign Minister asked the countries to cooperate closely to soon raise their trade to 100 billion USD by 2023 and to bring Vietnam in the top 3 biggest trading partners of the RoK. Vietnam is not only a business partner but also a close friend of the RoK, he said.
The fact that some large Korean companies such as LG and Samsung continue expanding investment in Vietnam proves their efforts to promote equality and cooperation between the countries. Deok affirmed, the Korean sides will soon perfect the RoK's CPS for Vietnam to make Vietnam and the RoK become leading partners in the region./.
Bao Linh
Ministry of Planning and Investment